Dream Bath Soak
Regular price

$0.00

Sale price

$13.61
Hurry, only 19 items left in stock!
Transform your Nightly Ritual!
Experience the ultimate sleep-enhancing bath with our Dream Bath soak. Immerse yourself in a tranquil oasis and let the calming properties of this luxurious blend lull you into a deep and restful slumber.
Crafted with a thoughtfully selected combination of lavender oil, chamomile oil, and sandalwood oil, our Dream Bath soak is specifically designed to promote relaxation and improve sleep quality.
Details:
Scents: Lavender, Vanilla, Sandalwood, and Chamomile

Lavender oil - renowned for its soothing properties, gently eases the mind and prepares you for a peaceful night's sleep.

Sandalwood oil -  this oil has been treasured for centuries for its ability to promote a deep sense of calm and tranquility.

Chamomile oil -  provides nourishment and hydration to your skin, leaving it soft and supple.
Size - 236ml/8oz white PET plastic bottle
Our Products are Handmade with Love from Canada!
We love supporting local and all our products are not massed produced. Rather, we create our products in batches, meaning that there is more care, detail and love in each bottle. By buying our items, you are helping to support a thriving Edmonton based business.
Disclaimer:

Please read the following disclaimer before using our Dream Bath soak:
Our Dream Bath soak is intended for external use only.
While our Dream Bath soak is formulated with gentle and natural ingredients, it is possible for individuals to have specific sensitivities or allergies. It is recommended to perform a patch test on a small area of skin before using the product extensively. Discontinue use if any irritation or allergic reaction occurs and consult a healthcare professional if necessary.
Our Dream Bath soak is designed to provide a relaxing and rejuvenating experience. However, it is not intended to diagnose, treat, cure, or prevent any specific medical conditions. If you have any concerns about your health, please consult a healthcare professional.
As with any bath product, please store our Dream Bath soak in a safe and secure place, out of the reach of children or pets.
Recommended Use
To fully indulge in the tranquil experience of our Dream Bath soak, follow these simple steps:
Fill your bathtub with warm water at your preferred temperature. Ensure the water level is deep enough to submerge your body comfortably.

Take a generous scoop of our Dream Bath soak and sprinkle it into the running water. As the bath fills, watch as the salts and oils dissolve, releasing their aromatic goodness into the air.

Gently swirl the water with your hand to disperse the ingredients evenly. This will ensure that the salts, clays, and oils are thoroughly mixed and ready to envelop your senses.

Soak for at least 20 minutes, allowing the natural ingredients to work their magic.

After your soothing soak, carefully step out of the bath and rinse off any residue with warm water. Gently pat your skin dry with a soft towel, allowing the beneficial oils to remain and continue nourishing your skin.
Ingredients
Formulated with skin nourishing botanicals and soothing essential oils, such as:
Magnesium Sulphate (Epsom salts)
Sodium Chloride

 

(Dead Sea) Salt
Kaolin (Bolus Alba)
Himalayan Crystal Salt
Lavendula Angustifolia (lavender) flower oil
Origanum marjorama (marjoram) leaf oil
Vanilla planifolia (vanilla)

 

bean oil
Santalum Album (sandalwood) oil 
Anthemis nobilis (chamomile) flower oil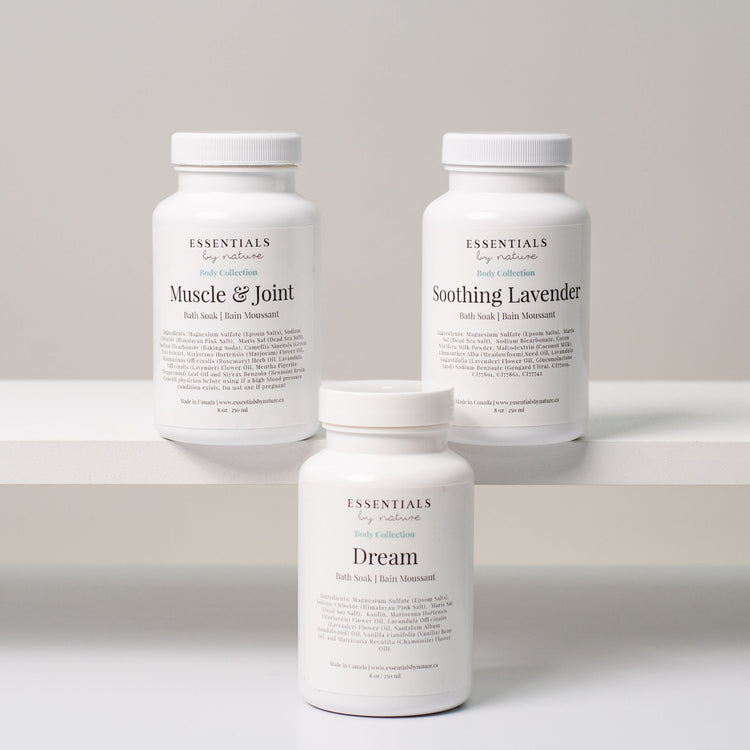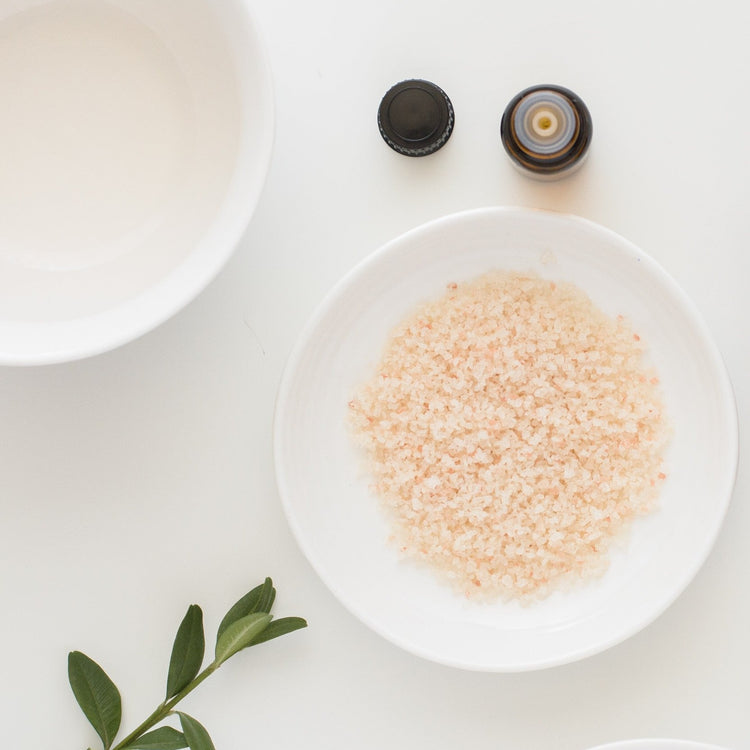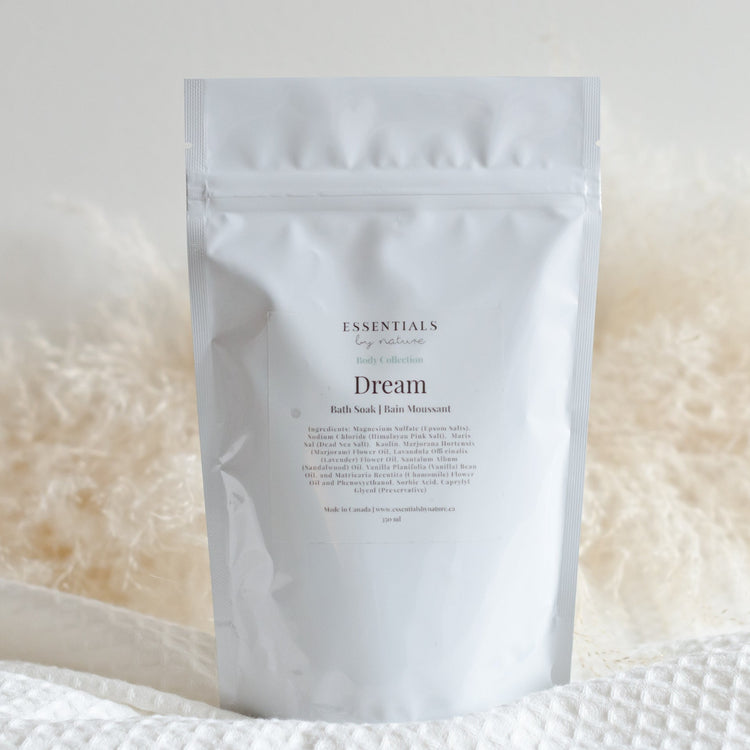 Why Essentials by Nature?
Clean Beauty
Clean and natural skincare with safe and transparent ingredients
Cruelty Free
Yes, our products are certified by Leaping Bunny as cruelty free.
Sustainable Packaging
Our signature shipping boxes are fully recyclable and biodegradable
Canadian Brand
Essentials by Nature products are made from scratch at our production site in Edmonton. 
"High Quality Handcrafted Products Made in Small Batches"
FAQs
Where do you make all your products?

Essentials by Nature products are made from scratch at our production site in Edmonton.  Our company sources a lot of materials locally, and collaborates with a number of suppliers in the area.  Our packaging is deliberately simple to minimize waste.

All products we sell are made in a safe and hygienic environment. We follow Alberta Health Services (AHS) guidelines when manufacturing all products.
What is the shelf-life of your products?

Some of our products have a longer shelf life than others depending on the ingredients and if they are oil based. As our products are made with natural ingredients, we suggest a shelf-life of 6-12 months.

Our products are natural and only contain some natural preservatives. To keep your products the freshest, please keep them away from direct heat and light sources. Always make sure to keep the lids tightly sealed. 

Try to ensure when using our products that water does not get into the containers and that your hands are clean when using the products.
Are your products certified organic?

Essentials by Nature uses many organic ingredients in products that are all cruelty, paraben, and toxin-free. All of our products have been extensively tested on our human friends.
Are your products Vegan?

Our products are made with plant-based ingredients, but they are not certified as vegan. Our Replenish Soak and Goatsmilk & Rosehip soak contain goatsmilk which is not vegan.
Are your products cruelty free?

Yes, our products are certified by Leaping Bunny as cruelty free.
Where do you source your ingredients and materials?

Essentials by Nature orders all of our supplies and natural ingredients from Canadian wholesale suppliers. We source products locally where possible.