Bath Soak Mini Kit
Regular price

$0.00

Sale price

$19.65
Hurry, only 10 items left in stock!
Our Bath Soak Mini Kits, are like a wellness retreat in a box. Experience pure relaxation and self-care with four exquisite mini bath soaks thoughtfully curated to rejuvenate your body and mind.
Packaged in an elegant white box, this Bath Soak Mini Kit makes a perfect gift for loved ones or a special treat for yourself. Delve into a world of soothing scents and rejuvenating properties as you sample our handcrafted soaks.
Immerse yourself in the comforting embrace of our Muscle & Joint soak, designed to soothe tired muscles and ease tension.
Discover the revitalizing power of our Mustard soak, packed with detoxifying benefits and a rejuvenating boost for your senses.
Drift away into a peaceful slumber with our Dream soak, carefully blended to promote relaxation and tranquility.
Replenish your body and restore your energy with our specially crafted Replenish soak, a luxurious blend of minerals and essential oils.
The kit contains 2 oz white PET plastic bottles of the following soaks in a white box:
Dream Soak
Muscle and Joint Soak
Mustard Soak
Replenish Soak
Our products are handmade with love in Canada!
We love supporting local businesses and carefully create products in batches to ensure the right amounts of care, detail, and love go into each bottle. By buying our items, you are helping support a thriving Edmonton-based business.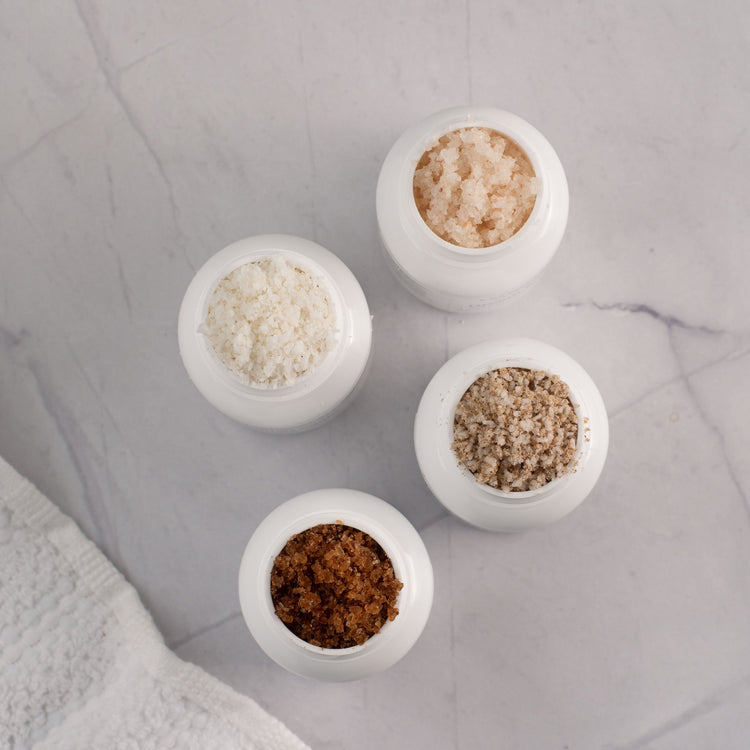 Why Essentials by Nature?
Clean Beauty
Clean and natural skincare with safe and transparent ingredients
Cruelty Free
Yes, our products are certified by Leaping Bunny as cruelty free.
Sustainable Packaging
Our signature shipping boxes are fully recyclable and biodegradable
Canadian Brand
Essentials by Nature products are made from scratch at our production site in Edmonton. 
"High Quality Handcrafted Products Made in Small Batches"
FAQs
Where do you make all your products?

Essentials by Nature products are made from scratch at our production site in Edmonton.  Our company sources a lot of materials locally, and collaborates with a number of suppliers in the area.  Our packaging is deliberately simple to minimize waste.

All products we sell are made in a safe and hygienic environment. We follow Alberta Health Services (AHS) guidelines when manufacturing all products.
What is the shelf-life of your products?

Some of our products have a longer shelf life than others depending on the ingredients and if they are oil based. As our products are made with natural ingredients, we suggest a shelf-life of 6-12 months.

Our products are natural and only contain some natural preservatives. To keep your products the freshest, please keep them away from direct heat and light sources. Always make sure to keep the lids tightly sealed. 

Try to ensure when using our products that water does not get into the containers and that your hands are clean when using the products.
Are your products certified organic?

Essentials by Nature uses many organic ingredients in products that are all cruelty, paraben, and toxin-free. All of our products have been extensively tested on our human friends.
Are your products Vegan?

Our products are made with plant-based ingredients, but they are not certified as vegan. Our Replenish Soak and Goatsmilk & Rosehip soak contain goatsmilk which is not vegan.
Are your products cruelty free?

Yes, our products are certified by Leaping Bunny as cruelty free.
Where do you source your ingredients and materials?

Essentials by Nature orders all of our supplies and natural ingredients from Canadian wholesale suppliers. We source products locally where possible.