Citrus Mist Shower Steamers
Regular price

Sale price

$20.10
Hurry, only 10 items left in stock!
A spa experience at home!
Harnessing the power of citrus oils renowned for their mood-boosting and uplifting properties, our Citrus Mist Shower Steamer is a delightful blend of blood orange, lemon, and bergamot essential oils.
These vibrant oils work harmoniously to create a zesty aroma that instantly uplifts your spirits, invigorates your senses, and leaves you feeling refreshed and rejuvenated.
Not only do our shower steamers offer an aromatic escape, but they also deliver the numerous benefits of citrus oils. The delightful fragrance can help alleviate stress, reduce anxiety, and promote a sense of well-being, making your shower an oasis of relaxation after a long day. The uplifting properties of citrus oils are also known to enhance mood, creating an atmosphere of positivity and joy.
Details:
made with a blend of citrus essential oils

uplifting and refreshing scent

safe for everyone 
Size: 10 pieces in a bottle
Disclaimer:

As every individual is unique, not all products will work for everyone. All of our products are healthier remedies, not a cure. The information provided serves only as a general guideline, as everyone has different needs and responds differently to natural remedies. Many people have success with essential oils and natural products, however, some do not. Therefore, we cannot guarantee the effectiveness on each individual.
Our Products are Handmade with Love from Canada!
We love supporting local and all our products are not massed produced. Rather, we create our products in batches, meaning that there is more care, detail and love in each bottle. By buying our items, you are helping to support a thriving Edmonton based business.
Recommended Use
Using our Citrus Mist Shower Steamer is a breeze. Follow these simple steps to enhance your shower experience:
Ensure that your shower is running at a comfortable temperature, creating a relaxing environment.

Position the Citrus Mist Shower Steamer on the shower floor, away from direct water flow. This allows the steam and water to interact with the steamer effectively.

As the steam and water make contact with the steamer, it will start releasing the uplifting aroma of the citrus oils. Let the invigorating mist surround you, creating a rejuvenating ambiance.

Made for shower use only and should NOT be used in the bath.
Not to be ingested. Keep out of reach from children.
As this is a handmade product, some variations in tablet size may occur.
Disclaimer:
Please note that our Citrus Mist Shower Steamer is not intended to diagnose, treat, cure, or prevent any medical conditions. If you have any underlying health concerns or are pregnant, we advise consulting with a healthcare professional before incorporating our product into your routine.

Although our shower steamer is safe for anyone to use, exercise caution when using it in the shower to prevent slipping or falling. Keep the steamer away from direct contact with water flow to prolong its effectiveness.
While we strive to provide accurate and up-to-date information, we cannot guarantee the completeness or accuracy of product descriptions, benefits, or results. Individual experiences may vary.
For external use only. Keep out of reach of children. Store in a cool, dry place.
Please note that sometimes these steamers can break during shipment. They can still be used even if there is slight damage to the squares. There will be no refunds or exchanges offered on these as they can still be used.
Ingredients
Formulated with plant-based ingredients such as:
Sodium Bicarbonate
Citric Acid
Maranta Arundinacea Root( Arrowroot Powder)
Hamamelis virginiana (witch hazel) water (and) Ethanol
Citrus sinensis (Blood Orange)
Citrus limon (L) burm (Lemon) 
Citrus bergamia (Bergamot)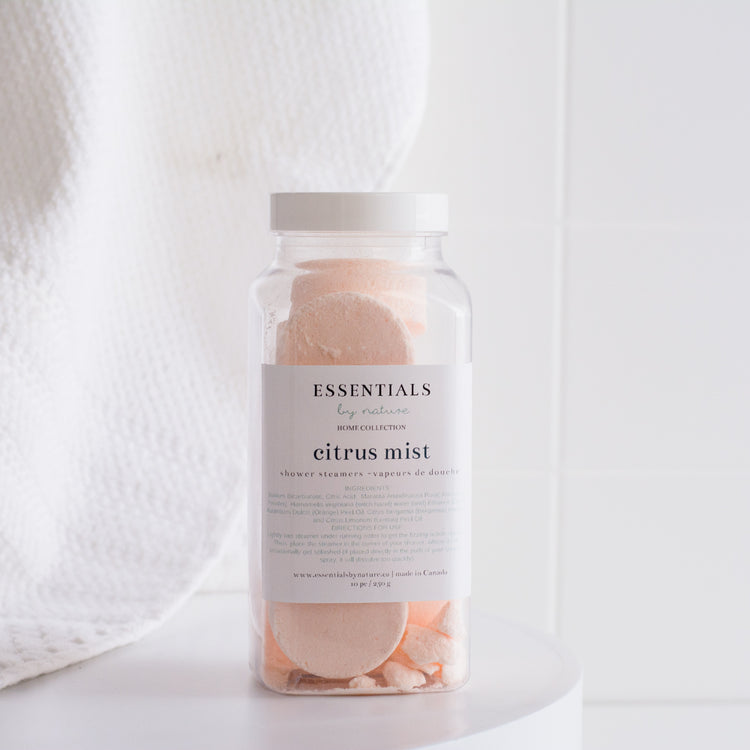 Why Essentials by Nature?
Clean Beauty
Clean and natural skincare with safe and transparent ingredients
Cruelty Free
Yes, our products are certified by Leaping Bunny as cruelty free.
Sustainable Packaging
Our signature shipping boxes are fully recyclable and biodegradable
Canadian Brand
Essentials by Nature products are made from scratch at our production site in Edmonton. 
"High Quality Handcrafted Products Made in Small Batches"
FAQs
Where do you make all your products?

Essentials by Nature products are made from scratch at our production site in Edmonton.  Our company sources a lot of materials locally, and collaborates with a number of suppliers in the area.  Our packaging is deliberately simple to minimize waste.

All products we sell are made in a safe and hygienic environment. We follow Alberta Health Services (AHS) guidelines when manufacturing all products.
What is the shelf-life of your products?

Some of our products have a longer shelf life than others depending on the ingredients and if they are oil based. As our products are made with natural ingredients, we suggest a shelf-life of 6-12 months.

Our products are natural and only contain some natural preservatives. To keep your products the freshest, please keep them away from direct heat and light sources. Always make sure to keep the lids tightly sealed. 

Try to ensure when using our products that water does not get into the containers and that your hands are clean when using the products.
Are your products certified organic?

Essentials by Nature uses many organic ingredients in products that are all cruelty, paraben, and toxin-free. All of our products have been extensively tested on our human friends.
Are your products Vegan?

Our products are made with plant-based ingredients, but they are not certified as vegan. Our Replenish Soak and Goatsmilk & Rosehip soak contain goatsmilk which is not vegan.
Are your products cruelty free?

Yes, our products are certified by Leaping Bunny as cruelty free.
Where do you source your ingredients and materials?

Essentials by Nature orders all of our supplies and natural ingredients from Canadian wholesale suppliers. We source products locally where possible.