Eucalyptus Mint Shower Steamers
Regular price

Sale price

$21.17
Hurry, only 15 items left in stock!
A spa experience at home!
Eucalyptus Mint Shower Steamers, the perfect addition to your daily shower routine. Designed to transform your shower into a spa-like experience, these steamers are infused with invigorating eucalyptus and refreshing mint, delivering a burst of aromatic bliss that will awaken your senses.
Crafted with care, our Eucalyptus Mint Shower Steamers are made from all-natural ingredients, ensuring a pure and soothing experience. The powerful combination of eucalyptus and mint oils creates a revitalizing steam that envelops your shower, releasing tension and promoting a sense of calm and relaxation.
Details:
Eucalyptus - known for its invigorating properties, helping to clear congestion and promote deep breathing.

Spearmint - provides a cooling sensation that revitalizes and uplifts your spirit
Size:
10 pieces in a bottle
Disclaimer:

Please read and follow the instructions carefully before using our Eucalyptus Mint Shower Steamers.
These shower steamers are intended for use in the shower only. Do not use them in the bath or consume them.
Follow the recommended usage instructions provided with the product. Using more than one steamer at a time or exceeding the suggested duration may cause excessive scent or steam concentration.
If you are pregnant, nursing, have a medical condition, or are taking any medications, we recommend consulting with a healthcare professional before using the steamers to ensure they are suitable for your specific circumstances.
If you experience any skin irritation, discomfort, or any other adverse reactions while using the shower steamers, discontinue use immediately and seek medical advice if necessary.
Our Products are Handmade with Love from Canada!
We love supporting local and all our products are not massed produced. Rather, we create our products in batches, meaning that there is more care, detail and love in each bottle. By buying our items, you are helping to support a thriving Edmonton based business.
Recommended Use
How to use our Eucalyptus Mint Shower Steamers:
Start by running the water in your shower to your desired temperature.
Place one Eucalyptus Mint Shower Steamer on the shower floor, ideally towards the back, where it won't be directly hit by water.
As the water hits the steamer, it will activate and release its aromatic properties.
Continue with your usual shower routine, taking advantage of the soothing atmosphere created by the shower steamer.
Once your shower is complete, simply rinse away any residue left by the steamer.
Made for shower use only and should NOT be used in the bath.
Please note that sometimes these steamers can break during shipment. They can still be used even if there is slight damage to the squares. There will be no refunds or exchanges offered on these as they can still be used.
Ingredients
Formulated with plant-based ingredients such as:
Sodium Bicarbonate
Citric Acid
Maranta Arundinacea Root( Arrowroot Powder)
Hamamelis virginiana (witch hazel) water (and) Ethanol
Eucalyptus globulus leaf oil (Eucalyptus)
Mentha spicata (Spearmint)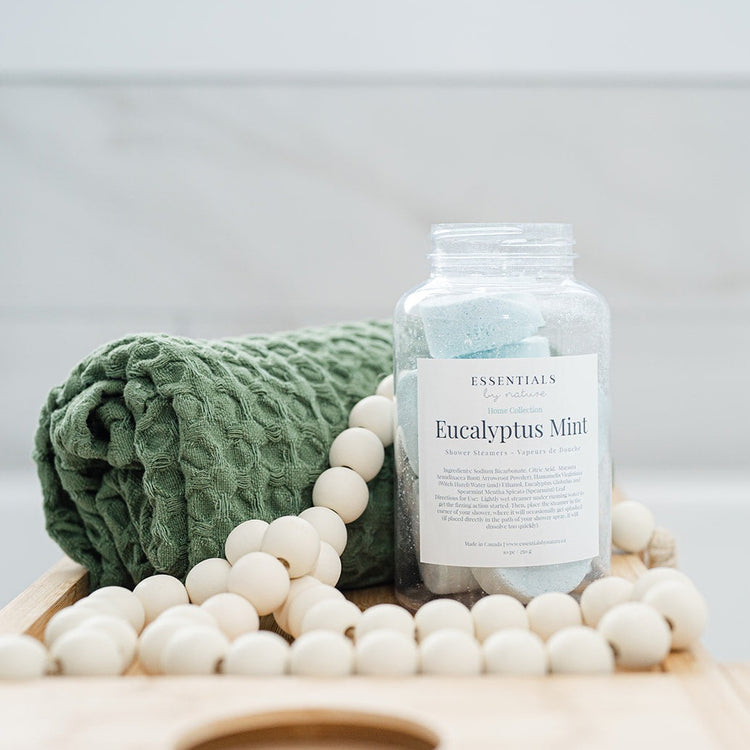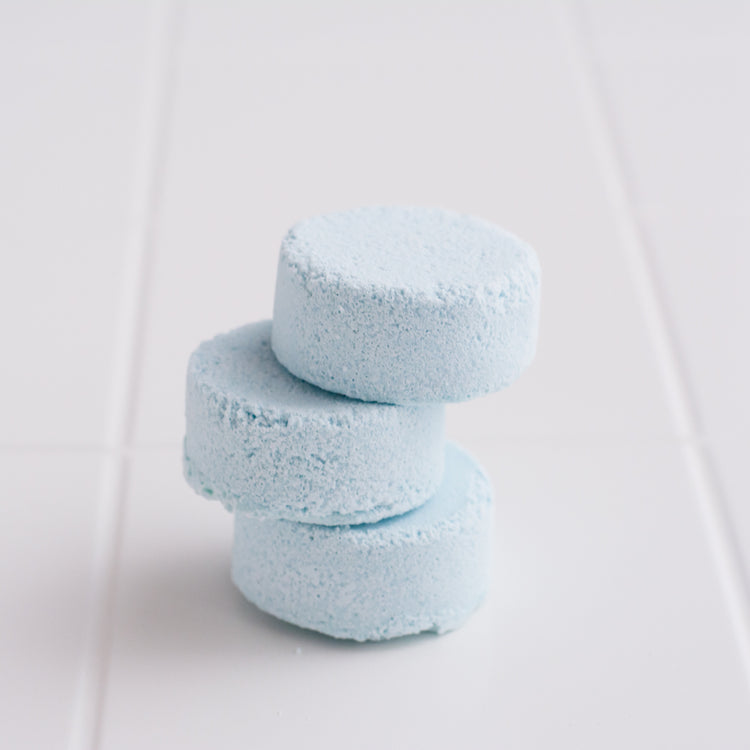 Why Essentials by Nature?
Clean Beauty
Clean and natural skincare with safe and transparent ingredients
Cruelty Free
Yes, our products are certified by Leaping Bunny as cruelty free.
Sustainable Packaging
Our signature shipping boxes are fully recyclable and biodegradable
Canadian Brand
Essentials by Nature products are made from scratch at our production site in Edmonton. 
"High Quality Handcrafted Products Made in Small Batches"
FAQs
Where do you make all your products?

Essentials by Nature products are made from scratch at our production site in Edmonton.  Our company sources a lot of materials locally, and collaborates with a number of suppliers in the area.  Our packaging is deliberately simple to minimize waste.

All products we sell are made in a safe and hygienic environment. We follow Alberta Health Services (AHS) guidelines when manufacturing all products.
What is the shelf-life of your products?

Some of our products have a longer shelf life than others depending on the ingredients and if they are oil based. As our products are made with natural ingredients, we suggest a shelf-life of 6-12 months.

Our products are natural and only contain some natural preservatives. To keep your products the freshest, please keep them away from direct heat and light sources. Always make sure to keep the lids tightly sealed. 

Try to ensure when using our products that water does not get into the containers and that your hands are clean when using the products.
Are your products certified organic?

Essentials by Nature uses many organic ingredients in products that are all cruelty, paraben, and toxin-free. All of our products have been extensively tested on our human friends.
Are your products Vegan?

Our products are made with plant-based ingredients, but they are not certified as vegan. Our Replenish Soak and Goatsmilk & Rosehip soak contain goatsmilk which is not vegan.
Are your products cruelty free?

Yes, our products are certified by Leaping Bunny as cruelty free.
Where do you source your ingredients and materials?

Essentials by Nature orders all of our supplies and natural ingredients from Canadian wholesale suppliers. We source products locally where possible.