Magnesium Bath Soak
Regular price

Sale price

$10.59
Hurry, only 10 items left in stock!
Experience the blissful tranquility as our Magnesium Bath Soak envelops your senses, melting away tension and stress with each soothing soak. By harnessing the natural properties of magnesium, this bath soak offers a multitude of benefits for both relaxation and muscle pain relief, making it an essential addition to your self-care routine.
Magnesium, often referred to as nature's tranquilizer, works wonders when absorbed through the skin. As you immerse yourself in a warm bath infused with our magnesium-rich soak, your body readily absorbs this vital mineral, promoting a deep sense of calm and relaxation. Say goodbye to restless nights and hello to restorative sleep as magnesium gently eases your mind and helps you unwind from the demands of the day.
Details:

Magnesium is known for its natural ability to relax muscles, alleviate cramps, and soothe discomfort.

Magnesium has been shown to support healthy skin function, helping to nourish and hydrate your skin while enhancing its natural elasticity.

By incorporating this powerful mineral into your bath routine, you can experience soothing relief from muscle tension, sports-related soreness, and everyday aches and pains.

scent free
Size - 200g/8oz in a white PET plastic bottle
Our Products are Handmade with Love from Canada!
We love supporting local and all our products are not massed produced. Rather, we create our products in batches, meaning that there is more care, detail and love in each bottle. By buying our items, you are helping to support a thriving Edmonton based business.
Recommended Use
Using our Magnesium Bath Soak is simple and effortless, allowing you to maximize the benefits of magnesium for relaxation and muscle pain relief. Follow these easy steps to create a rejuvenating bath experience:
Fill your bathtub with warm water, ensuring the temperature is comfortable for you. The ideal water temperature is around 37-38°C (98-100°F), but adjust it according to your preference.

Scoop 1-2 cups of the bath soak into the running water.

Carefully step into the bath and immerse your body, allowing the magnesium-infused water to surround you. Take a few moments to relax, breathe deeply, and let the soothing properties of the bath soak work their magic.

Stay in the bath for approximately 20-30 minutes, or longer if desired. This allows ample time for your body to absorb the magnesium and experience its calming effects. Use this time to unwind, read a book, listen to relaxing music, or simply enjoy a moment of tranquility.

Once you've finished your bath, you have the option to rinse off with clean water if desired. However, for enhanced benefits, you can also pat yourself dry with a towel, allowing the residual magnesium to remain on your skin and continue its work.

Not to be used on children under 6 unless otherwise directed by a healthcare professional.
Keep in a cool, dry place. We encourage a shelf life of 6-12 months.
Disclaimer:
As every individual is unique, not all products will work for everyone. All of our products are healthier remedies, not a cure. The information provided serves only as a general guideline, as everyone has different needs and responds differently to magnesium therapy. Many people have success with essential oils and natural products, however, some do not. Therefore, we cannot guarantee the effectiveness on each individual.
Ingredients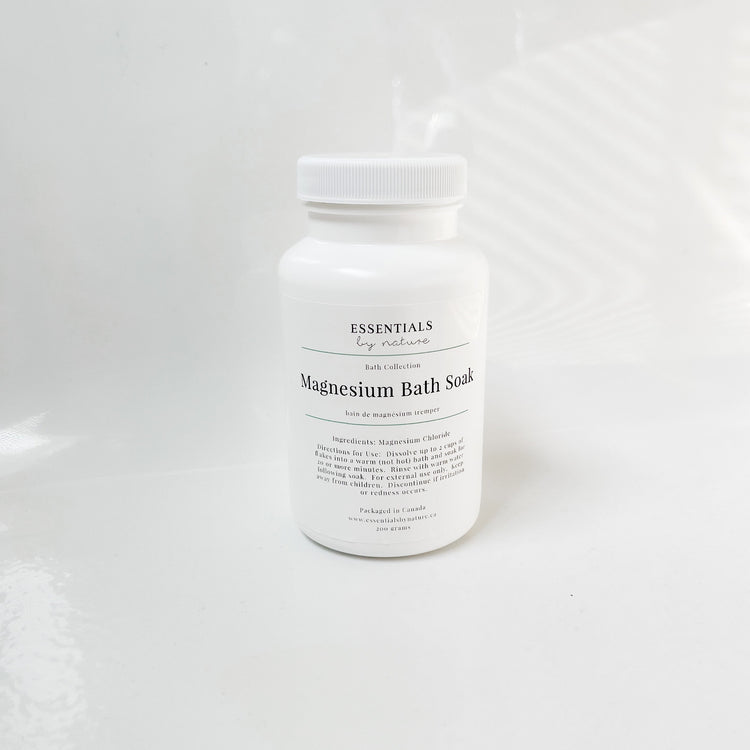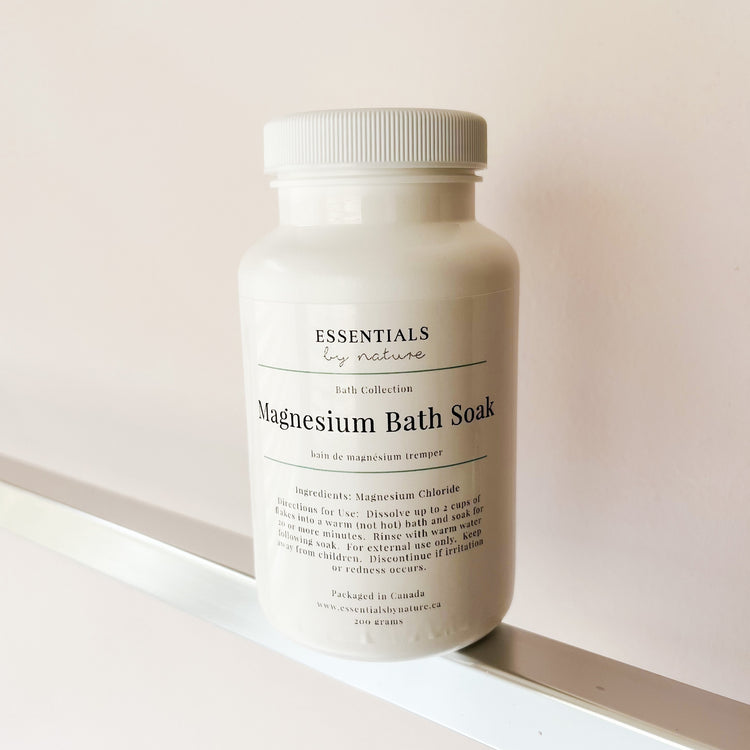 Why Essentials by Nature?
Clean Beauty
Clean and natural skincare with safe and transparent ingredients
Cruelty Free
Yes, our products are certified by Leaping Bunny as cruelty free.
Sustainable Packaging
Our signature shipping boxes are fully recyclable and biodegradable
Canadian Brand
Essentials by Nature products are made from scratch at our production site in Edmonton. 
"High Quality Handcrafted Products Made in Small Batches"
FAQs
Where do you make all your products?

Essentials by Nature products are made from scratch at our production site in Edmonton.  Our company sources a lot of materials locally, and collaborates with a number of suppliers in the area.  Our packaging is deliberately simple to minimize waste.

All products we sell are made in a safe and hygienic environment. We follow Alberta Health Services (AHS) guidelines when manufacturing all products.
What is the shelf-life of your products?

Some of our products have a longer shelf life than others depending on the ingredients and if they are oil based. As our products are made with natural ingredients, we suggest a shelf-life of 6-12 months.

Our products are natural and only contain some natural preservatives. To keep your products the freshest, please keep them away from direct heat and light sources. Always make sure to keep the lids tightly sealed. 

Try to ensure when using our products that water does not get into the containers and that your hands are clean when using the products.
Are your products certified organic?

Essentials by Nature uses many organic ingredients in products that are all cruelty, paraben, and toxin-free. All of our products have been extensively tested on our human friends.
Are your products Vegan?

Our products are made with plant-based ingredients, but they are not certified as vegan. Our Replenish Soak and Goatsmilk & Rosehip soak contain goatsmilk which is not vegan.
Are your products cruelty free?

Yes, our products are certified by Leaping Bunny as cruelty free.
Where do you source your ingredients and materials?

Essentials by Nature orders all of our supplies and natural ingredients from Canadian wholesale suppliers. We source products locally where possible.