Magnesium Mini - Pregnancy/Children
Regular price

Sale price

$9.07
Hurry, only 20 items left in stock!
Promoting Relaxation & Well-being!!
Magnesium Spray, a game-changing topical solution designed to unlock the numerous health benefits of magnesium oil. Packed with essential minerals, this revolutionary product is formulated to provide fast-acting relief and support overall well-being.
Our Magnesium Spray delivers a highly bioavailable form of magnesium directly to your skin. When applied topically, this quick-absorbing formula bypasses the digestive system, allowing for faster and more efficient absorption into the body. 
By using our Magnesium Spray topically, you can effortlessly boost your magnesium levels and support overall wellness, including improved energy levels, muscle relaxation, and enhanced sleep quality.
We understand the importance of safety, especially when it comes to our loved ones. That's why our Magnesium Spray is safe for children over 2 years old, making it an ideal choice for the entire family. Additionally, it is formulated to be safe for use during pregnancy, allowing expectant mothers to enjoy the benefits of magnesium without worry.
Details:
Magnesium is an essential mineral that plays a vital role in numerous bodily functions.

Magnesium is known to have calming properties that help promote relaxation and reduce anxiety.

Alcohol free Witch Hazel - Unlike traditional witch hazel that contains alcohol, alcohol-free witch hazel is milder and gentler on the skin. It doesn't strip away the natural oils, making it suitable for all skin types, including sensitive and dry skin

Aloe - renowned for its soothing properties, aloe vera provides gentle nourishment to the skin. It hydrates, moisturizes, and calms irritated or inflamed areas, making it an excellent addition to our Magnesium Spray.
 Our Products are Handmade with Love from Canada!
We love supporting local and all our products are not massed produced. Rather, we create our products in batches, meaning that there is more care, detail and love in each bottle. By buying our items, you are helping to support a thriving Edmonton based business.
Recommended Use
To fully enjoy the benefits of our Magnesium Spray, follow these simple steps for optimal application:
Before each use, shake the bottle well to ensure the ingredients are properly mixed.

Start with clean and dry skin. If desired, you can gently cleanse the area you plan to apply the spray to remove any dirt or oils.

If you are using the Magnesium Spray for the first time or have sensitive skin, perform a patch test. Apply a small amount of the spray to a discreet area of your skin, such as the inside of your wrist or forearm. Wait for 24 hours and observe for any adverse reactions. If no negative response occurs, proceed with regular usage.

Hold the bottle approximately 6-8 inches away from the targeted area of your body. Press the nozzle to dispense a fine mist of the Magnesium Spray. Start with a small amount and gradually increase if needed.

The Magnesium Spray can be applied to various parts of the body, such as the legs, arms, back, or abdomen. Focus on areas where you experience muscle tension or cramps, or apply it to areas where you desire the benefits of magnesium.

Avoid applying the spray to sensitive areas, such as the face, eyes, mucous membranes, or broken or irritated skin. If accidental contact occurs, rinse thoroughly with water.

Let the Magnesium Spray absorb into your skin for a few minutes before dressing to prevent potential staining on clothing. The spray should dry relatively quickly.

Keep in a cool, dry place. All products are made with natural ingredients and do not last as long as store bought products. We encourage a shelf life of 6-12 months.
Disclaimer:
The following disclaimer is provided to ensure the safe and responsible use of our Magnesium Spray. Please read and understand the information provided before using the product.
Our Magnesium Spray is intended for topical use only. It is formulated with carefully selected ingredients to provide beneficial effects when applied to the skin. However, it is essential to note that individual results may vary, and the product's effectiveness may differ from person to person.
The information provided on this product is not intended as a substitute for professional medical advice, diagnosis, or treatment. If you have any specific medical concerns or conditions, we strongly recommend consulting a healthcare professional before incorporating the Magnesium Spray into your routine.
While our Magnesium Spray is formulated with gentle and natural ingredients, it is possible for individuals to be allergic or sensitive to certain substances. We advise you to carefully review the ingredients list, especially if you have known allergies or sensitivities to any of the components present in the product. If you experience any adverse reactions or irritation, discontinue use immediately and consult a healthcare professional.
To ensure compatibility with your skin, we recommend performing a patch test before using the Magnesium Spray extensively. Apply a small amount of the product to a discreet area of your skin and monitor for any adverse reactions, such as redness, itching, or swelling. If any negative reactions occur, refrain from using the product.
Ingredients
Formulated with plant-based ingredients, such as:
Hamamelis virginiana (witch hazel)
Magnesium chloride oil (magnesium)
Distilled water (aqua)
Aloe Barbensis (aloe vera) Leaf Extract
Lavendula Angustifolia (lavender)
Anthemis nobilis (chamomile) flower oil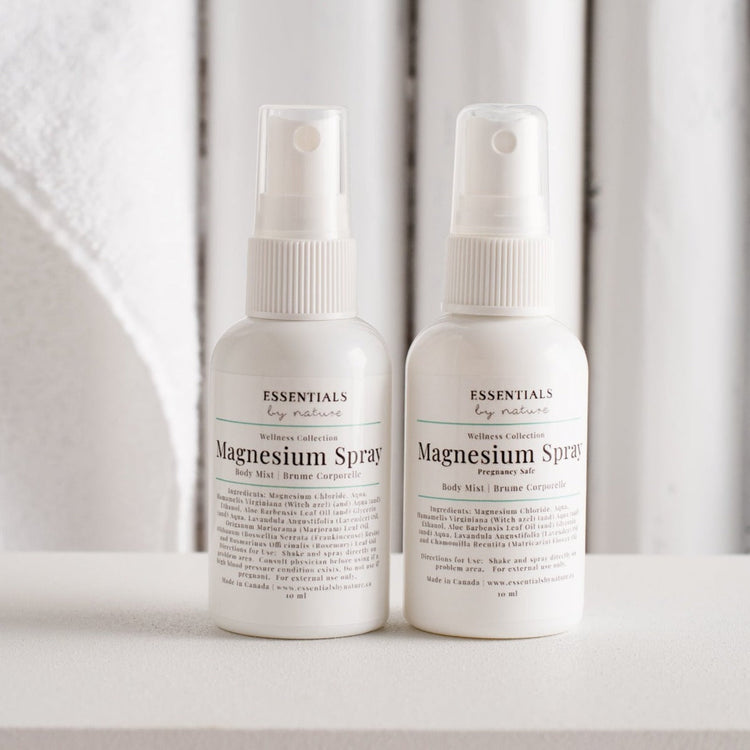 Why Essentials by Nature?
Clean Beauty
Clean and natural skincare with safe and transparent ingredients
Cruelty Free
Yes, our products are certified by Leaping Bunny as cruelty free.
Sustainable Packaging
Our signature shipping boxes are fully recyclable and biodegradable
Canadian Brand
Essentials by Nature products are made from scratch at our production site in Edmonton. 
"High Quality Handcrafted Products Made in Small Batches"
FAQs
Where do you make all your products?

Essentials by Nature products are made from scratch at our production site in Edmonton.  Our company sources a lot of materials locally, and collaborates with a number of suppliers in the area.  Our packaging is deliberately simple to minimize waste.

All products we sell are made in a safe and hygienic environment. We follow Alberta Health Services (AHS) guidelines when manufacturing all products.
What is the shelf-life of your products?

Some of our products have a longer shelf life than others depending on the ingredients and if they are oil based. As our products are made with natural ingredients, we suggest a shelf-life of 6-12 months.

Our products are natural and only contain some natural preservatives. To keep your products the freshest, please keep them away from direct heat and light sources. Always make sure to keep the lids tightly sealed. 

Try to ensure when using our products that water does not get into the containers and that your hands are clean when using the products.
Are your products certified organic?

Essentials by Nature uses many organic ingredients in products that are all cruelty, paraben, and toxin-free. All of our products have been extensively tested on our human friends.
Are your products Vegan?

Our products are made with plant-based ingredients, but they are not certified as vegan. Our Replenish Soak and Goatsmilk & Rosehip soak contain goatsmilk which is not vegan.
Are your products cruelty free?

Yes, our products are certified by Leaping Bunny as cruelty free.
Where do you source your ingredients and materials?

Essentials by Nature orders all of our supplies and natural ingredients from Canadian wholesale suppliers. We source products locally where possible.