Magnesium Spray
Regular price

$0.00

Sale price

$15.88
Hurry, only 20 items left in stock!
Promoting Relaxation & Well-being!!
Magnesium Spray, a game-changing topical solution designed to unlock the numerous health benefits of magnesium oil. Packed with essential minerals, this revolutionary product is formulated to provide fast-acting relief and support overall well-being.
Our Magnesium Spray delivers a highly bioavailable form of magnesium directly to your skin. When applied topically, this quick-absorbing formula bypasses the digestive system, allowing for faster and more efficient absorption into the body. 
Details:
Magnesium Spray acts as a natural muscle relaxant, easing tightness and soothing soreness

Magnesium - known to have calming properties that help promote relaxation and reduce anxiety.

Aloe - renowned for its soothing properties, aloe vera provides gentle nourishment to the skin. It hydrates, moisturizes, and calms irritated or inflamed areas, making it an excellent addition to our Magnesium Spray.

Rosemary oil -  helps relieve muscle pain and tension, and provides a sense of mental clarity and focus.

Lavender - has long been used to promote restful sleep and reduce stress

Marjoram  - aids in promoting relaxation and reducing tension
 Size - 118ml/4oz or 236ml/8oz in a white PET plastic bottle
Our Products are Handmade with Love from Canada!
We love supporting local and all our products are not massed produced. Rather, we create our products in batches, meaning that there is more care, detail and love in each bottle. By buying our items, you are helping to support a thriving Edmonton based business.
Recommended Use
Using our Magnesium Spray is simple and convenient. Follow these easy steps to experience the full benefits
Before each use, gently shake the bottle to ensure that the ingredients are well mixed.

Cleanse and dry the area of skin where you intend to apply the spray. This will help ensure optimal absorption. 

If your skin is very dry or sensitive to magnesium, apply a lotion/cream to your skin before application of the Magnesium spray.

Hold the bottle about 3-5 inches away from your skin and spray an adequate amount of the Magnesium Spray onto the desired area. It's best to start with a small amount and gradually increase if needed. Avoid contact with eyes and open wounds. Do not apply directly after shaving for at least 24 hours. 

Allow the spray to fully absorb into your skin. Depending on your skin type, this may take a few minutes.

May cause a tingling/itchy sensation for the first few minutes after application, this will subside after repeated use.

Not to be used on children under 6 unless otherwise directed by a healthcare professional.

Always do a test patch on a small patch of skin before regular use to make sure the product is tolerated well.

Ensure that you tightly close the bottle after each use and store it in a cool, dry place away from direct sunlight or extreme temperatures. This will help maintain the quality and effectiveness of the product.
Regular use of our Magnesium Spray can maximize its benefits and help you achieve optimal results. Incorporate it into your daily routine and enjoy the soothing, revitalizing effects of magnesium oil on your body and mind.
Disclaimer:
The following disclaimer is intended to provide important information regarding the use of our Magnesium Spray. Please read this disclaimer carefully before using the product. 
The information provided on our Magnesium Spray is for general informational purposes only and should not be considered as a substitute for professional medical advice or treatment. If you have any specific health concerns, existing medical conditions, or are pregnant, nursing, or under medication, we strongly recommend consulting a healthcare professional before using the Magnesium Spray. 
Prior to using the Magnesium Spray, we recommend conducting a patch test on a small area of skin to check for any adverse reactions or allergies. Discontinue use immediately if you experience any discomfort, irritation, or rash. Avoid applying the spray on broken or damaged skin. 
The effectiveness of the Magnesium Spray can vary from person to person. While many individuals experience positive results, the product's efficacy may depend on various factors, including individual body chemistry, skin sensitivity, and the consistency of use. We cannot guarantee specific outcomes or benefits from using the product.
Ingredients
Formulated with plant-based ingredients, such as:
Hamamelis virginiana (witch hazel)
Magnesium chloride oil (magnesium)
Distilled water (aqua)
Aloe Barbensis (aloe vera) Leaf Extract
Rosmarinus Officinalis (rosemary) 
Origanum marjorama (marjoram)
Lavendula Angustifolia (lavender)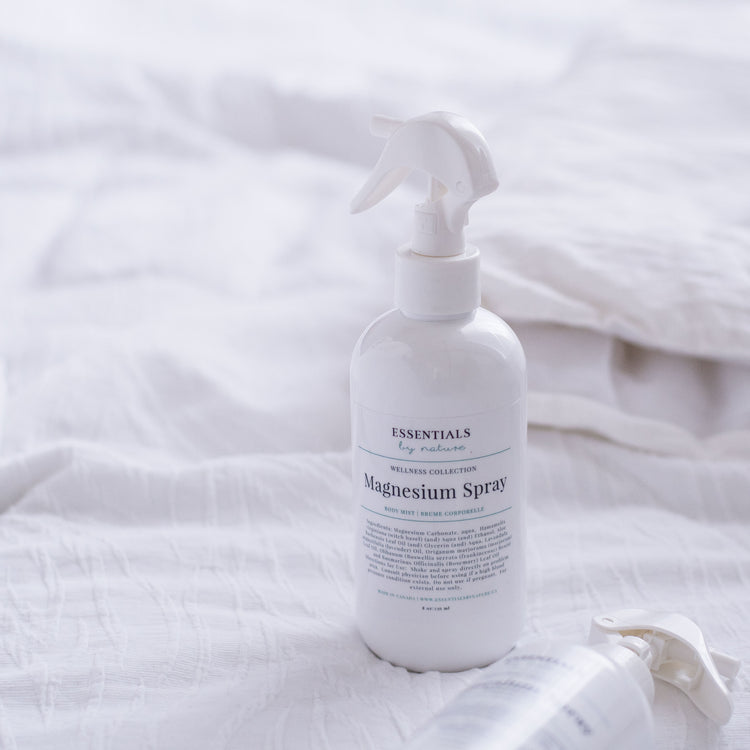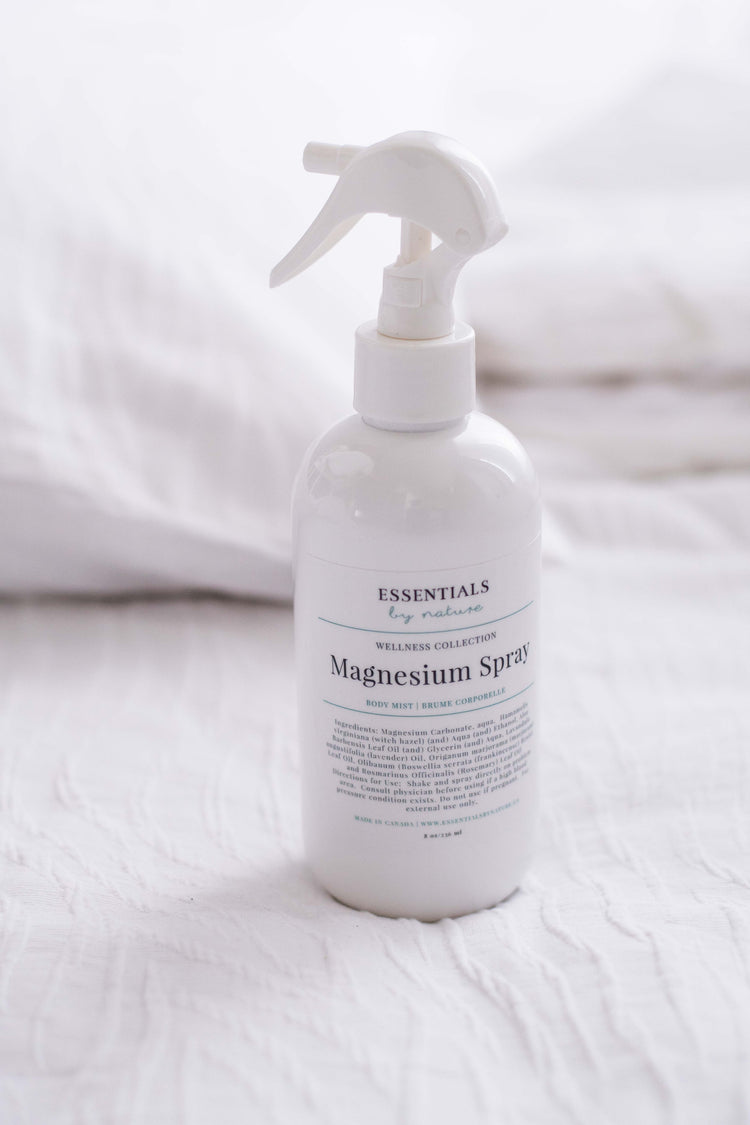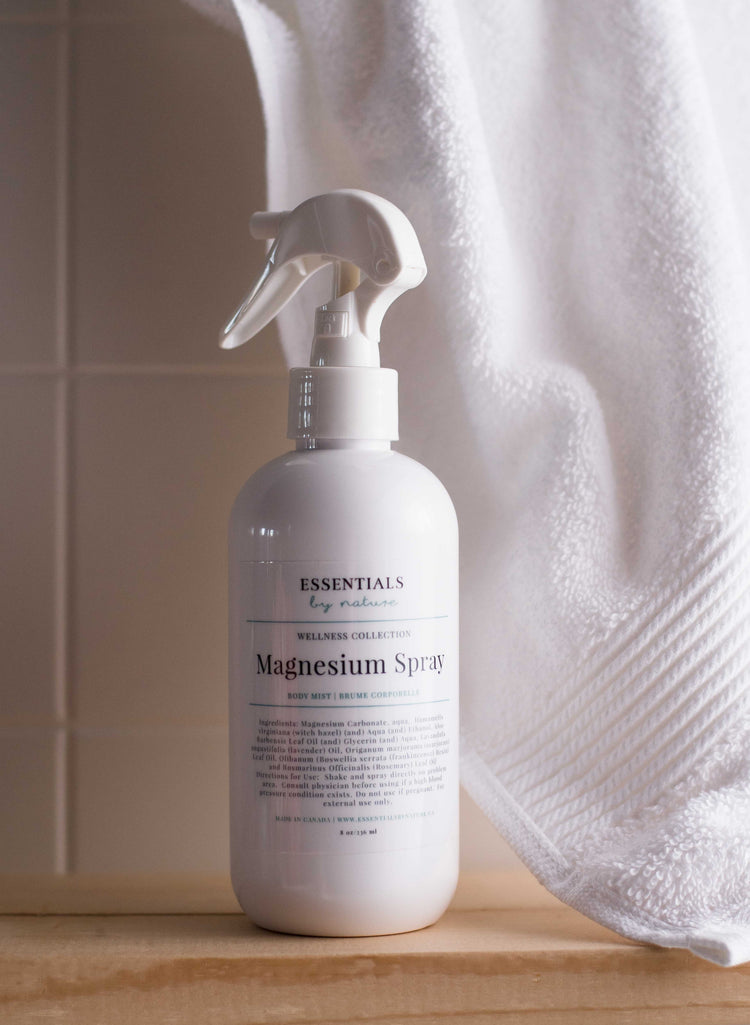 Why Essentials by Nature?
Clean Beauty
Clean and natural skincare with safe and transparent ingredients
Cruelty Free
Yes, our products are certified by Leaping Bunny as cruelty free.
Sustainable Packaging
Our signature shipping boxes are fully recyclable and biodegradable
Canadian Brand
Essentials by Nature products are made from scratch at our production site in Edmonton. 
"High Quality Handcrafted Products Made in Small Batches"
FAQs
Where do you make all your products?

Essentials by Nature products are made from scratch at our production site in Edmonton.  Our company sources a lot of materials locally, and collaborates with a number of suppliers in the area.  Our packaging is deliberately simple to minimize waste.

All products we sell are made in a safe and hygienic environment. We follow Alberta Health Services (AHS) guidelines when manufacturing all products.
What is the shelf-life of your products?

Some of our products have a longer shelf life than others depending on the ingredients and if they are oil based. As our products are made with natural ingredients, we suggest a shelf-life of 6-12 months.

Our products are natural and only contain some natural preservatives. To keep your products the freshest, please keep them away from direct heat and light sources. Always make sure to keep the lids tightly sealed. 

Try to ensure when using our products that water does not get into the containers and that your hands are clean when using the products.
Are your products certified organic?

Essentials by Nature uses many organic ingredients in products that are all cruelty, paraben, and toxin-free. All of our products have been extensively tested on our human friends.
Are your products Vegan?

Our products are made with plant-based ingredients, but they are not certified as vegan. Our Replenish Soak and Goatsmilk & Rosehip soak contain goatsmilk which is not vegan.
Are your products cruelty free?

Yes, our products are certified by Leaping Bunny as cruelty free.
Where do you source your ingredients and materials?

Essentials by Nature orders all of our supplies and natural ingredients from Canadian wholesale suppliers. We source products locally where possible.