Muscle and Joint Bath Soak
Regular price

$0.00

Sale price

$13.60
Hurry, only 10 items left in stock!
Melt those tired, sore Muscles!!
Muscle & Joint Bath Soak, the ultimate solution for tired, sore, and achy muscles. Designed specifically for post-workout recovery, this powerful bath soak will rejuvenate and restore your body, leaving you feeling refreshed and ready to take on the world.
Our Muscle & Joint Bath Soak is carefully formulated with a potent blend of natural ingredients, each chosen for their remarkable properties in soothing and relieving muscle discomfort. With our bath soak, you can say goodbye to soreness and hello to a quicker recovery.
Not only does our bath soak provide immediate relief, but it also promotes long-term benefits for your muscles and joints. Regular use can help enhance muscle recovery, reduce the risk of injury, and improve overall flexibility, making it an essential part of your post-workout routine.
Details:
Dead Sea salt -  renowned for its high concentration of magnesium and potassium. It helps to relax muscles, reduce inflammation, and promote overall muscle recovery.

Himalayan Pink salt - aids in soothing sore muscles, improving circulation, and detoxifying the body.

Green tea extract - k

nown for its antioxidant and anti-inflammatory properties, green tea extract helps to reduce muscle soreness and inflammation.

Peppermint oil  - provides a cooling sensation that helps to alleviate muscle aches and pains

 
Our Products are Handmade with Love from Canada!
We love supporting local and all our products are not massed produced. Rather, we create our products in batches, meaning that there is more care, detail and love in each bottle. By buying our items, you are helping to support a thriving Edmonton based business.
Recommended Use
Using our Muscle & Joint Bath Soak is simple and effortless. Follow these easy steps to maximize its benefits and experience ultimate post-workout recovery:
Start by running a warm bath to your desired level. Ensure the water is comfortably warm, as hot water may cause further irritation to your muscles.

Add the Muscle & Joint Bath Soak: Sprinkle a generous amount of our bath soak into the water as the tub fills. Allow the bath soak to dissolve completely, releasing its soothing properties.

Use your hand or a bath paddle to gently stir the water, ensuring that the ingredients are evenly distributed throughout the bath.

Carefully step into the bath and immerse your body, allowing the warm water and healing properties of the Muscle & Joint Bath Soak to envelop you. Take deep breaths and let the calming aroma soothe your senses.

Remain in the bath for a minimum of 15-20 minutes to allow the ingredients to work their magic. During this time, you can gently massage your muscles to further enhance the soothing effect.
Disclaimer:
The following disclaimer is important to ensure a clear understanding of our Muscle & Joint Bath Soak:
Results may vary from person to person. While our product is designed to provide relief for tired, sore, and achy muscles, the effectiveness may differ depending on factors such as the severity of the discomfort and individual body responses.
Our Muscle & Joint Bath Soak is not intended to diagnose, treat, cure, or prevent any medical conditions. It is a cosmetic product designed for relaxation and post-workout recovery.
Remember, it is crucial to consult with a healthcare professional or dermatologist before using any new product, especially if you have pre-existing medical conditions or sensitivities. Should not be used while pregnant, nursing or in children.
Store the Muscle & Joint Bath Soak in a cool, dry place away from direct sunlight to maintain its quality and effectiveness.
Ingredients
Each ingredient in our Muscle & Joint Bath Soak is carefully selected to work synergistically, creating a powerhouse formula that targets tired, sore, and achy muscles. Experience the invigorating and therapeutic benefits of these botanical ingredients and discover a new level of comfort and relief.
Magnesium Sulphate
Dead sea salt
Himalayan Pink salt
Camellia sinensis (green tea) extract
Sodium Bicarbonate
Lavendula angustifolia (lavender) flower oil
Origanum marjorama (marjoram) oil
Rosmarinus Officinalis (rosemary) oil
Benzoin
Mentha piperita (peppermint) leaf oil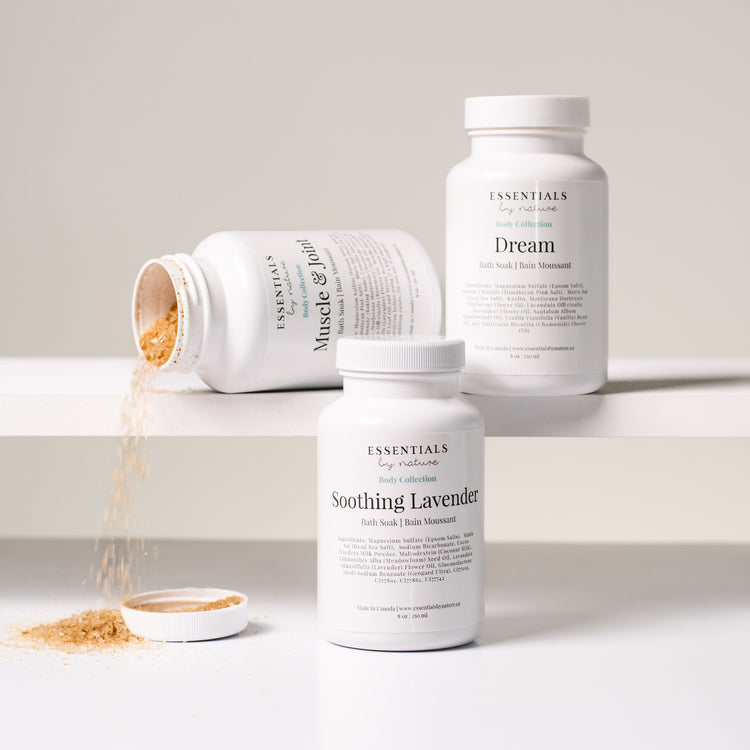 Why Essentials by Nature?
Clean Beauty
Clean and natural skincare with safe and transparent ingredients
Cruelty Free
Yes, our products are certified by Leaping Bunny as cruelty free.
Sustainable Packaging
Our signature shipping boxes are fully recyclable and biodegradable
Canadian Brand
Essentials by Nature products are made from scratch at our production site in Edmonton. 
"High Quality Handcrafted Products Made in Small Batches"
FAQs
Where do you make all your products?

Essentials by Nature products are made from scratch at our production site in Edmonton.  Our company sources a lot of materials locally, and collaborates with a number of suppliers in the area.  Our packaging is deliberately simple to minimize waste.

All products we sell are made in a safe and hygienic environment. We follow Alberta Health Services (AHS) guidelines when manufacturing all products.
What is the shelf-life of your products?

Some of our products have a longer shelf life than others depending on the ingredients and if they are oil based. As our products are made with natural ingredients, we suggest a shelf-life of 6-12 months.

Our products are natural and only contain some natural preservatives. To keep your products the freshest, please keep them away from direct heat and light sources. Always make sure to keep the lids tightly sealed. 

Try to ensure when using our products that water does not get into the containers and that your hands are clean when using the products.
Are your products certified organic?

Essentials by Nature uses many organic ingredients in products that are all cruelty, paraben, and toxin-free. All of our products have been extensively tested on our human friends.
Are your products Vegan?

Our products are made with plant-based ingredients, but they are not certified as vegan. Our Replenish Soak and Goatsmilk & Rosehip soak contain goatsmilk which is not vegan.
Are your products cruelty free?

Yes, our products are certified by Leaping Bunny as cruelty free.
Where do you source your ingredients and materials?

Essentials by Nature orders all of our supplies and natural ingredients from Canadian wholesale suppliers. We source products locally where possible.