Muscle and Joint Massage Cream
Regular price

Sale price

$21.17
Hurry, only 10 items left in stock!
Your go-to solution for targeted pain relief!
Introducing our highly effective Muscle & Joint Cream, designed to alleviate muscle aches and pains while providing soothing relief from swelling and inflammation.
This revolutionary therapeutic cream utilizes naturally healing ingredients such as pure essential oils, benzoin, and hemp to provide the ultimate massage for your body. It is specially designed to help you relax during massage while promoting a sense of well-being to enhance your health.
Our Muscle & Joint Cream is easy to apply and absorbs quickly into the skin, allowing the ingredients to penetrate deep into the muscles and joints for fast-acting relief. Whether you're an athlete recovering from intense workouts or someone experiencing daily muscle fatigue, this cream is designed to target your specific needs.
Details:
Avocado Oil - contains essential fatty acids and antioxidants known for their anti-inflammatory properties.

Hemp Seed Oil - high in omega-3 and omega-6 fatty acids, working synergistically to reduce muscle soreness and promote faster recovery.

Peppermint Oil - provides a cooling sensation that helps soothe and relax tired muscles

Helichrysum Oil - aids in reducing inflammation and swelling, facilitating a faster healing process.
Size - 59ml/2oz
Our Products are Handmade with Love from Canada!
We love supporting local and all our products are not massed produced. Rather, we create our products in batches, meaning that there is more care, detail and love in each bottle. By buying our items, you are helping to support a thriving Edmonton based business.
Recommended Use
Here's a step-by-step guide on how to use our Muscle & Joint Cream effectively for relieving muscle aches and pains:
Before applying the cream, make sure the skin around the muscle or joint is clean and dry. Gently wash the area with mild soap and water, and pat it dry with a clean towel.

Gently massage the cream onto the affected muscle or joint using circular motions. Apply enough pressure to ensure the cream is absorbed into the skin, but avoid applying excessive force.

Depending on the severity of your muscle pain or discomfort, you may need to reapply the cream multiple times throughout the day. Follow the directions on the packaging or consult with a healthcare professional for specific guidelines.

After applying the cream, remember to wash your hands thoroughly to avoid accidentally transferring the cream to sensitive areas, such as the eyes or mouth.

Store it in a cool, dry place away from direct sunlight.

If your muscle pain or joint discomfort persists or worsens, it is advisable to consult a healthcare professional for a proper diagnosis and further guidance.
Disclaimer:
Please read and follow this disclaimer carefully before using our Muscle & Joint Cream:
The effectiveness of the Muscle & Joint Cream can vary from person to person. While many users experience relief from muscle aches and pains, there is no guarantee that the cream will work the same way for everyone.
Our Muscle & Joint Cream is intended for topical use and as a supplement to a healthy lifestyle. It is not intended to diagnose, treat, cure, or prevent any medical condition. If you have a specific medical condition, please consult with a healthcare professional before using the cream.
Although our Muscle & Joint Cream is made with natural ingredients, it is possible for individuals to have allergic reactions or sensitivities to certain ingredients. If you experience any skin irritation, redness, itching, or discomfort, discontinue use immediately and consult a healthcare professional.
The Muscle & Joint Cream is designed for external use only. Avoid contact with eyes, mouth, and other mucous membranes. In case of accidental contact, rinse thoroughly with water and seek medical attention if necessary.
If you have any underlying medical conditions, are pregnant or breastfeeding, or are currently taking medications, it is recommended to consult a healthcare professional before using the Muscle & Joint Cream.
Ingredients
Formulated with natural botanicals and pure essential oils, such as:
Aqua (Purified Water),
Persea Gratissima (Avocado) Oil
Emulsifying Wax NF
Prunus Amygdalus Dulcis (Sweet Almond ) Oil
Stearic Acid
Glycerin
Cannabis Sativa (Hemp) Seed Oil
Aloe Barbensis Leaf Extract (Aloe Vera)
Silk Amino Acids
Phenoxyethanol (and) Caprylyl Glycol (and) Sorbic Acid(Preservative)
Mentha piperita (peppermint) oil
Helichrysum italicum (helichrysum) oil
Styrax benzoin (benzoin) oil
Lavandula officinalis (lavender) oil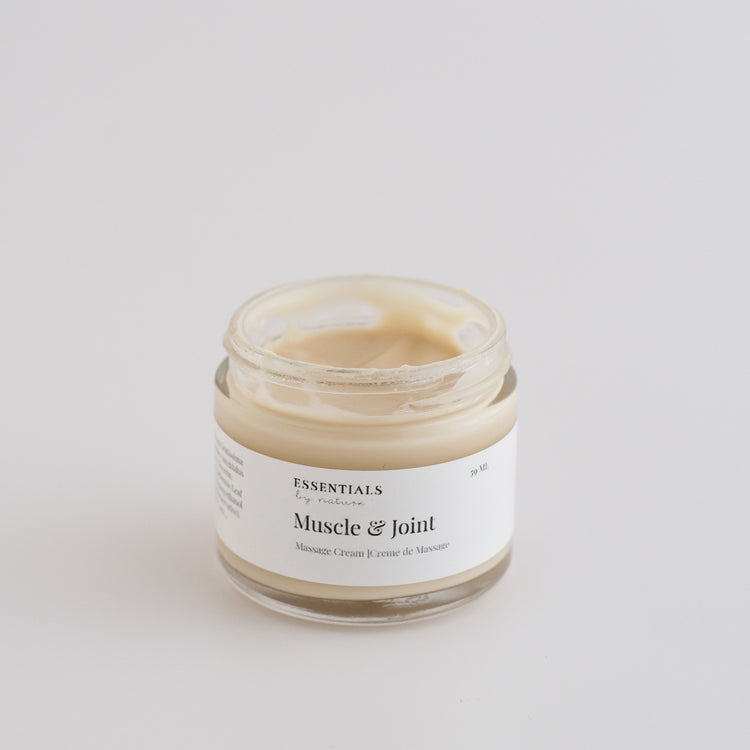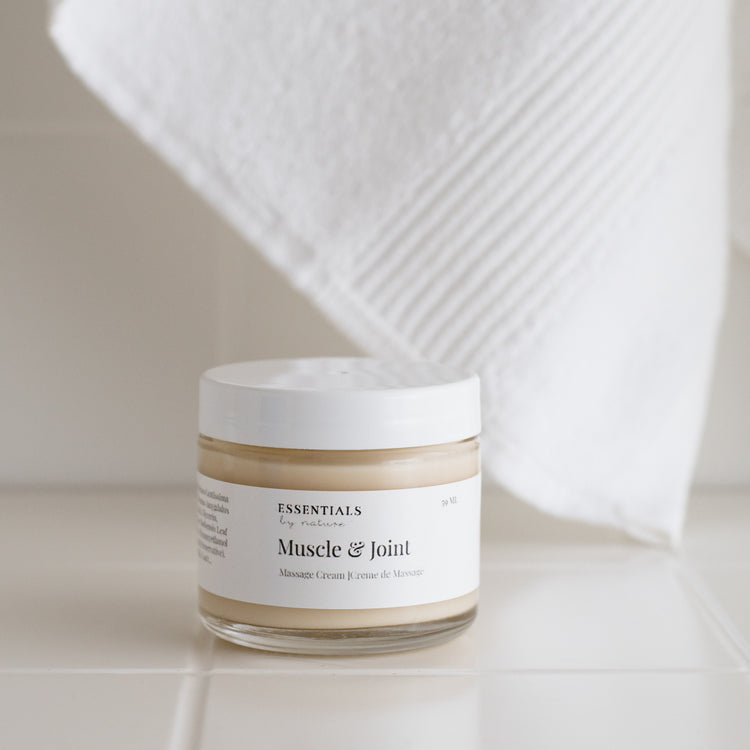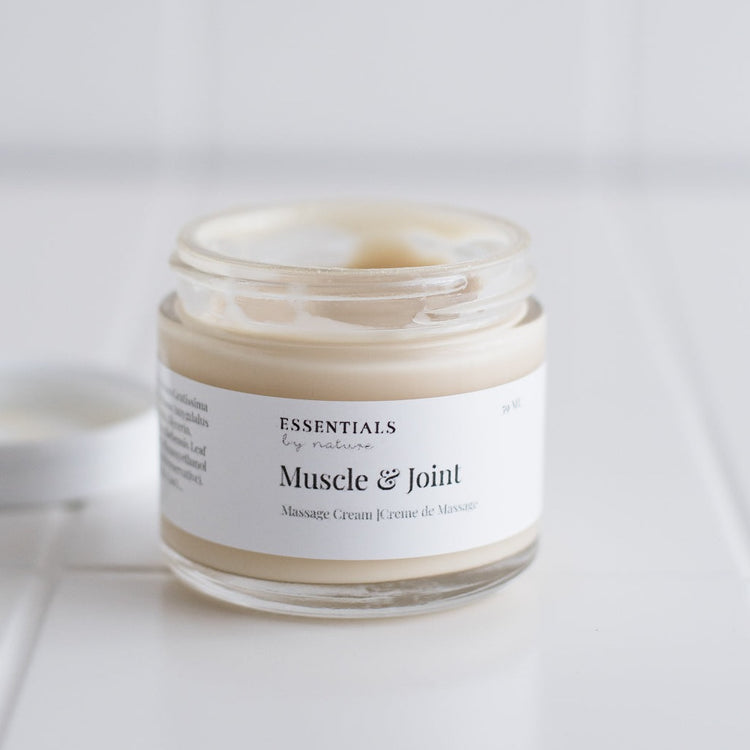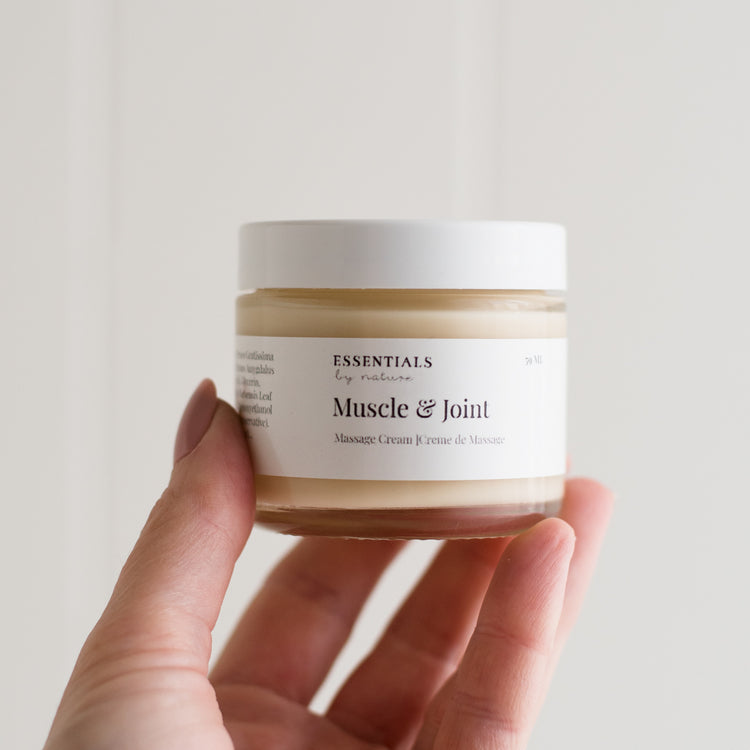 Why Essentials by Nature?
Clean Beauty
Clean and natural skincare with safe and transparent ingredients
Cruelty Free
Yes, our products are certified by Leaping Bunny as cruelty free.
Sustainable Packaging
Our signature shipping boxes are fully recyclable and biodegradable
Canadian Brand
Essentials by Nature products are made from scratch at our production site in Edmonton. 
"High Quality Handcrafted Products Made in Small Batches"
FAQs
Where do you make all your products?

Essentials by Nature products are made from scratch at our production site in Edmonton.  Our company sources a lot of materials locally, and collaborates with a number of suppliers in the area.  Our packaging is deliberately simple to minimize waste.

All products we sell are made in a safe and hygienic environment. We follow Alberta Health Services (AHS) guidelines when manufacturing all products.
What is the shelf-life of your products?

Some of our products have a longer shelf life than others depending on the ingredients and if they are oil based. As our products are made with natural ingredients, we suggest a shelf-life of 6-12 months.

Our products are natural and only contain some natural preservatives. To keep your products the freshest, please keep them away from direct heat and light sources. Always make sure to keep the lids tightly sealed. 

Try to ensure when using our products that water does not get into the containers and that your hands are clean when using the products.
Are your products certified organic?

Essentials by Nature uses many organic ingredients in products that are all cruelty, paraben, and toxin-free. All of our products have been extensively tested on our human friends.
Are your products Vegan?

Our products are made with plant-based ingredients, but they are not certified as vegan. Our Replenish Soak and Goatsmilk & Rosehip soak contain goatsmilk which is not vegan.
Are your products cruelty free?

Yes, our products are certified by Leaping Bunny as cruelty free.
Where do you source your ingredients and materials?

Essentials by Nature orders all of our supplies and natural ingredients from Canadian wholesale suppliers. We source products locally where possible.