Mustard Soak
Regular price

$0.00

Sale price

$13.60
Hurry, only 10 items left in stock!
Stimulate the Senses!!
Mustard Bath Soaks, are a time-honored remedy that has provided relief for winter ailments for centuries. Harnessing the power of mustard, this incredible bath soak offers a host of benefits to soothe and invigorate your body and mind.
Immerse yourself in the ultimate relaxation experience with our invigorating Mustard Bath Soak. Carefully crafted with a blend of premium ingredients, including Epsom salts, Dead Sea salt, mustard seed, ginger root powder, rosemary oil, and eucalyptus oil, this luxurious bath soak offers a multitude of benefits to soothe your body and elevate your bathing routine.
Details:
Dead Sea Salt -  helps detoxify the skin, improving its texture and promoting a healthy, radiant glow.

Mustard Seed - embrace the centuries-old tradition of mustard's healing powers. Mustard seed provides a warming effect, offering relief for tired muscles and soothing winter discomfort.

Ginger Root Powder - known for it's ability to stimulate circulation and promotes a sense of rejuvenation.

Eucalyptus oil  - helps clear the mind and supports respiratory health.
Together, these carefully selected ingredients work in harmony to create a luxurious and transformative bathing experience. Our Mustard Bath Soak delivers a sensory journey, promoting relaxation, revitalization, and overall well-being.
Disclaimer:
As every individual is unique, not all products will work for everyone. All of our products are healthier remedies, not a cure. The information provided serves only as a general guideline, as everyone has different needs and responds differently to natural remedies. Many people have success with essential oils and natural products, however, some do not. Therefore, we cannot guarantee the effectiveness on each individual.
Our Products are Handmade with Love from Canada!
We love supporting local and all our products are not massed produced. Rather, we create our products in batches, meaning that there is more care, detail and love in each bottle. By buying our items, you are helping to support a thriving Edmonton based business.
Recommended Use
Using our Mustard Bath Soak is simple and revitalizing.
Fill your bathtub with warm water at a comfortable temperature.

Sprinkle 1-2 scoops of Mustard Bath Soak into the water as the tub fills. Adjust the amount according to your preference and the size of your bathtub.

Carefully immerse yourself in the bath, ensuring your body is fully submerged for maximum benefit.

Soak for 20-30 minutes for maximum benefit.

For external use only.

We encourage a shelf life of 6-12 months 
Disclaimer:
Our Mustard Bath Soak is intended for external use only. While we have taken great care in formulating this product with high-quality ingredients, it is important to note that individual results may vary.
If you have underlying health issues or are pregnant, it is advisable to consult with a healthcare professional before using our Mustard Bath Soak. Certain conditions may require caution or avoidance of certain ingredients. Please read the product label and ingredients list to ensure you are not allergic or sensitive to any components.
Please keep our Mustard Bath Soak out of reach of children and pets, and store it in a cool, dry place to maintain its freshness and efficacy.
Ingredients
Formulated with the finest ingredients with a special blend of botanicals, essential oils and fragrant herbs, such as:
Magnesium Sulfate (Epsom Salts)
Maris Sal (Dead Sea Salt)
Brassica Rapa Seed Extract (Mustard Seed)
Sodium Bicarbonate
Zingiber Officinale Root (Ginger Root) Powder
Cinnamomum Burmanni (Cinnamon) Powder
Lavandula Officinalis (Lavender) Flower Oil
Eucalyptus Globulus (Eucalyptus) Leaf Oil
Rosmarinus Officinalis (Rosemary) Herb Oil
Zingiber Officinale (Ginger) Root Oil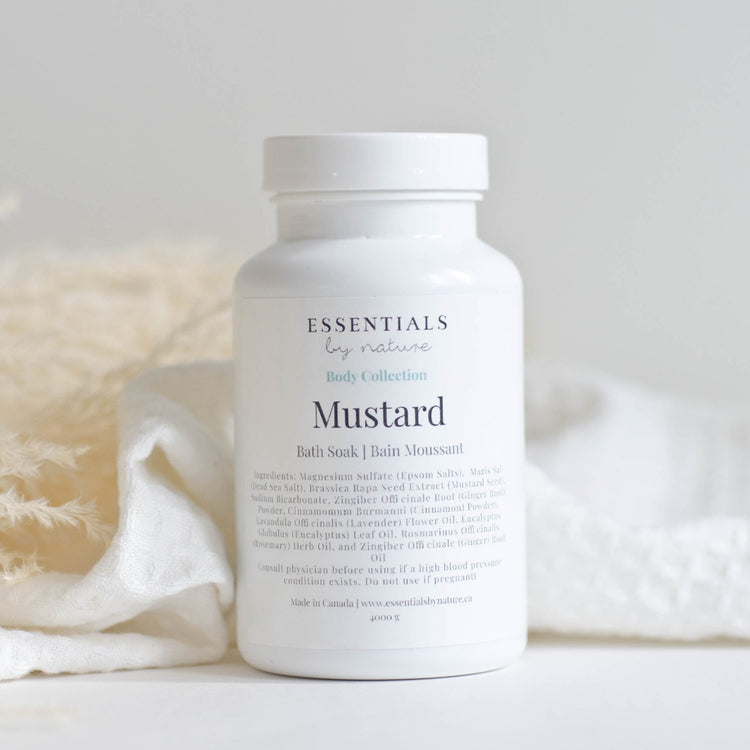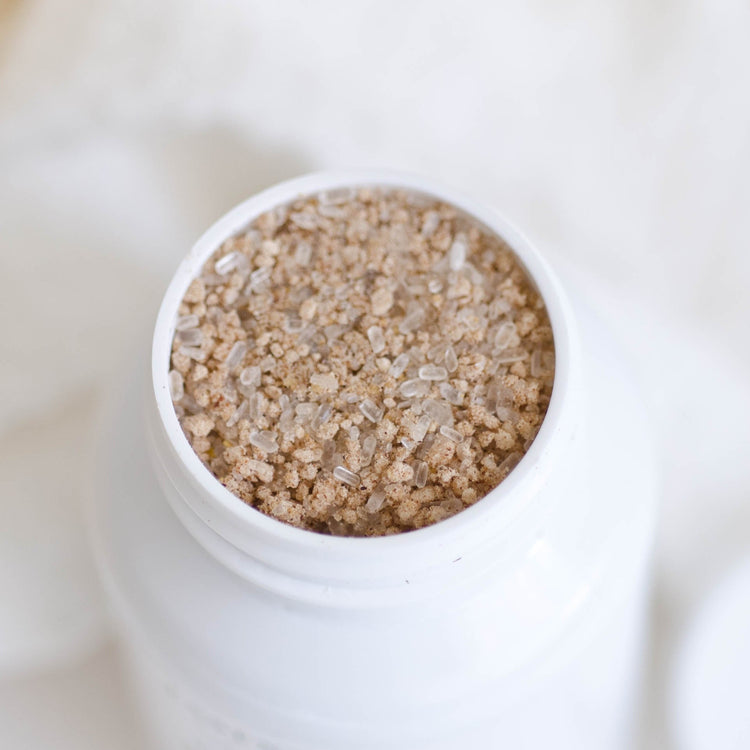 Why Essentials by Nature?
Clean Beauty
Clean and natural skincare with safe and transparent ingredients
Cruelty Free
Yes, our products are certified by Leaping Bunny as cruelty free.
Sustainable Packaging
Our signature shipping boxes are fully recyclable and biodegradable
Canadian Brand
Essentials by Nature products are made from scratch at our production site in Edmonton. 
"High Quality Handcrafted Products Made in Small Batches"
FAQs
Where do you make all your products?

Essentials by Nature products are made from scratch at our production site in Edmonton.  Our company sources a lot of materials locally, and collaborates with a number of suppliers in the area.  Our packaging is deliberately simple to minimize waste.

All products we sell are made in a safe and hygienic environment. We follow Alberta Health Services (AHS) guidelines when manufacturing all products.
What is the shelf-life of your products?

Some of our products have a longer shelf life than others depending on the ingredients and if they are oil based. As our products are made with natural ingredients, we suggest a shelf-life of 6-12 months.

Our products are natural and only contain some natural preservatives. To keep your products the freshest, please keep them away from direct heat and light sources. Always make sure to keep the lids tightly sealed. 

Try to ensure when using our products that water does not get into the containers and that your hands are clean when using the products.
Are your products certified organic?

Essentials by Nature uses many organic ingredients in products that are all cruelty, paraben, and toxin-free. All of our products have been extensively tested on our human friends.
Are your products Vegan?

Our products are made with plant-based ingredients, but they are not certified as vegan. Our Replenish Soak and Goatsmilk & Rosehip soak contain goatsmilk which is not vegan.
Are your products cruelty free?

Yes, our products are certified by Leaping Bunny as cruelty free.
Where do you source your ingredients and materials?

Essentials by Nature orders all of our supplies and natural ingredients from Canadian wholesale suppliers. We source products locally where possible.