Breathe Easy Linen & Body Spray
Regular price

Sale price

$12.54
Hurry, only 10 items left in stock!
Are you struggling to breathe easy??
Our aromatherapy sinus relief is exactly the remedy for your stuffy nose and it's surprisingly enjoyable too. With its invigorating blend of camphor, eucalyptus, mint, and menthol, this minty spray is designed to help you breathe easier and enjoy a cleaner, healthier environment. Whether you're seeking relief from nasal congestion, aiming to cleanse the air, or simply looking for a soothing fragrance, this exceptional product has got you covered.
Not only does this spray help you breathe easier, but it also purifies and cleanses the air around you. Say goodbye to stale odors and hello to a fresher, more inviting atmosphere. Transform any room into a sanctuary of freshness and create a peaceful environment that promotes relaxation and wellness.
Details:
Made with a blend of essential oils and fragrance oils

Helps to clear your nasal passages and promote a sense of well-being.

Perfect for when you are feeling under the weather with a cold or allergies
Our Products are Handmade with Love from Canada!
We love supporting local and all our products are not massed produced. Rather, we create our products in batches, meaning that there is more care, detail and love in each bottle. By buying our items, you are helping to support a thriving Edmonton based business.
Recommended Use

How to Use the Breathe Easy Linen & Body Spray:
Shake well before use.

Hold the bottle about 6-8 inches away from your linens. Spritz a light mist evenly over sheets, towels, and clothing. Allow the spray to dry naturally or gently pat it into the fabric.

Hold the bottle about 8-10 inches away from your body. Close your eyes and mouth, then lightly spritz the spray in a sweeping motion. Allow the mist to settle onto your skin, avoiding direct contact with your eyes.

Keep in a cool, dry place, away from heat or light sources.
All products are made with natural ingredients and do not last as long as store bought products. We encourage a shelf life of 6-12 months.

Avoid spraying on sensitive or broken skin. Discontinue use if any irritation occurs. For external use only. Keep out of reach of children.
Disclaimer:
The Breathe Easy Linen & Body Spray is intended for personal use and is not a substitute for medical advice or treatment.
While this product may help with clearing nasal passages and creating a refreshing environment, individual results may vary. It is important to consult with a healthcare professional before using this product, especially if you have any pre-existing respiratory conditions or allergies.
Avoid direct contact with eyes and sensitive areas, and discontinue use if any irritation or discomfort occurs. Keep out of reach of children.
The statements made regarding this product have not been evaluated by any regulatory authority. This product is not intended to diagnose, treat, cure, or prevent any disease. Use at your own discretion and follow the recommended guidelines.
Ingredients
Aqua

Hamamelis Virginiana (Witch Hazel) (and) Aqua (and) Ethanol

Glycerin

Propylene Glycol (and) Diazolidinyl Urea (and) Iodopropynyl Butylcarbamate Liquid Germall Plus

Menthol 

Natural Fragrance Oil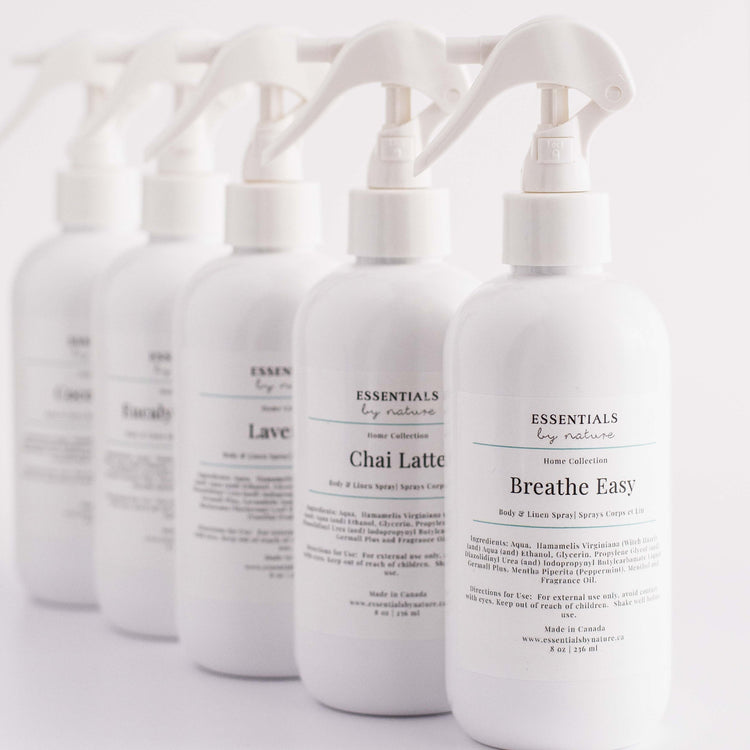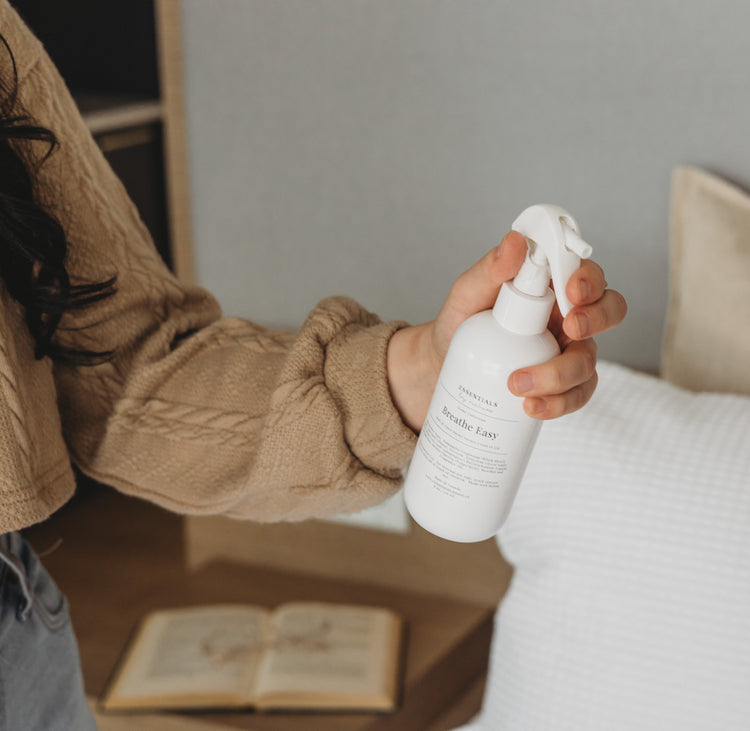 Why Essentials by Nature?
Clean Beauty
Clean and natural skincare with safe and transparent ingredients
Cruelty Free
Yes, our products are certified by Leaping Bunny as cruelty free.
Sustainable Packaging
Our signature shipping boxes are fully recyclable and biodegradable
Canadian Brand
Essentials by Nature products are made from scratch at our production site in Edmonton. 
"High Quality Handcrafted Products Made in Small Batches"
FAQs
Where do you make all your products?

Essentials by Nature products are made from scratch at our production site in Edmonton.  Our company sources a lot of materials locally, and collaborates with a number of suppliers in the area.  Our packaging is deliberately simple to minimize waste.

All products we sell are made in a safe and hygienic environment. We follow Alberta Health Services (AHS) guidelines when manufacturing all products.
What is the shelf-life of your products?

Some of our products have a longer shelf life than others depending on the ingredients and if they are oil based. As our products are made with natural ingredients, we suggest a shelf-life of 6-12 months.

Our products are natural and only contain some natural preservatives. To keep your products the freshest, please keep them away from direct heat and light sources. Always make sure to keep the lids tightly sealed. 

Try to ensure when using our products that water does not get into the containers and that your hands are clean when using the products.
Are your products certified organic?

Essentials by Nature uses many organic ingredients in products that are all cruelty, paraben, and toxin-free. All of our products have been extensively tested on our human friends.
Are your products Vegan?

Our products are made with plant-based ingredients, but they are not certified as vegan. Our Replenish Soak and Goatsmilk & Rosehip soak contain goatsmilk which is not vegan.
Are your products cruelty free?

Yes, our products are certified by Leaping Bunny as cruelty free.
Where do you source your ingredients and materials?

Essentials by Nature orders all of our supplies and natural ingredients from Canadian wholesale suppliers. We source products locally where possible.